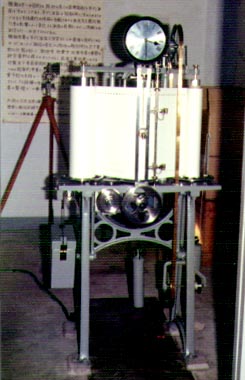 Kelvin type tide gauge
Kelvin type tide gauges, which were devised by an English physicist, Lord Kelvin, and produced in England, were the main gauges used to observe tides from 1891, when tide observation started in Japan, to 1979. The early gauges used pencils and springs, such as those used in pendulum clocks, and it was necessary to wind the springs everyday. The Geospatial Information Authority of Japan modified them into pen-writing and self-winding gauges.
The distinctive feature of this type of tide gauge is to set papers vertically. The paper was prone to damping and stretching since the recorder had no cover.